いま、手をつなぐ
アジアの女性たち
子供たちの未来のために、
平和のために
---
ASIA-PACIFIC LADIES JOIN THEIR HANDS TOGETHER
-FOR THE FUTURE OF OUR CHILDREN AND FOR WORLD PEACE-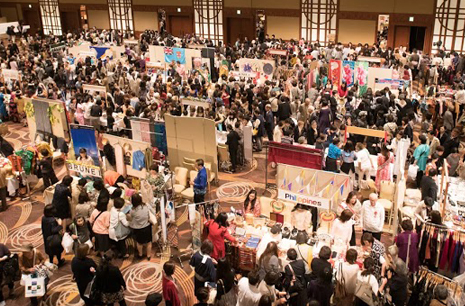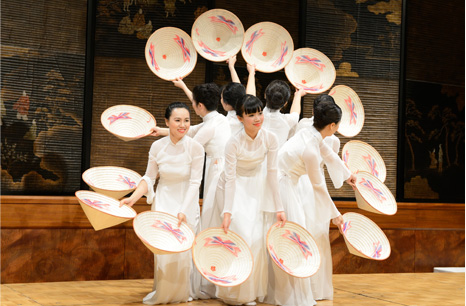 募金活動
友情は国境を越えて…
アジアの祭典・チャリティーバザー
毎年4月に、約3,000人が参加して開催される私たちの最大のイベント。お国ぶり豊かな演奏やパフォーマンスが披露され、会場では各国の手工芸品や手作り料理の販売が行われます。抽選券付き入場券やラッフル券の賞品は、大使館、企業、個人から寄付され、人気の的。
---
Fund-raising
Friendship has no borders...
"Asia-Pacific Festival & Charity Bazaar"
This is the largest of our events and is held annually in April. Member countries put up their stalls where traditional food and handicrafts are sold.
On the stage, dancers and musicians, dressed in their national costumes enchant the audience.
Every year wonderful prizes await winners of the raffle and door ticket-draws, thanks to generous donations by individual and corporate supporters and also by the Embassies.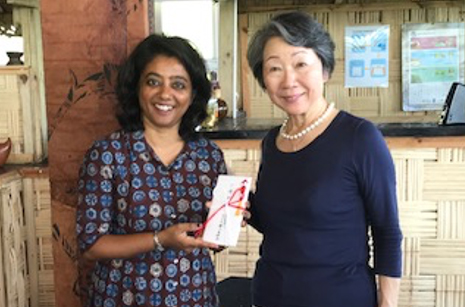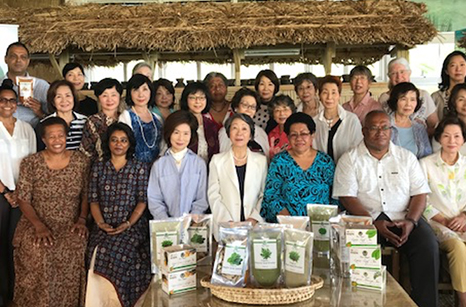 福祉施設への寄付と
災害援助
バザーやその他の募金活動で得た福祉基金はメンバー国に配分され、それぞれの国の支援を必要とする人々、特に女性や子供たちのために使われます。
メンバー国が洪水、台風、地震などの自然災害に見舞われた際には、見舞金が贈られます。
---
Helping the Needy and the Disaster Stricken
Opening new doors…
New School items bring hope and dreams…
The welfare fund raised through the Bazaar and the benevolent donations from members and friends are divided equally among the bazaar-participating member countries to be used for the welfare of the needy (especially women and children) within those countries.
When a member country is hit by natural disasters caused by inundations, typhoons, earthquakes, etc., a relief donation is sent to help those that have been affected.
会の概要
Summary
事務局

〒107-0052 東京都港区赤坂8丁目10番32号 アジア会館内

Office

c/o Asia Center of Japan 10-32, Akasaka 8-chome, Minato-ku Tokyo 107-0052
会長

高村 治子

President

Haruko Komura
副会長

中曽根 真理子 / 浦上 聖子

Vice Presidents

Mariko Nakasone / Seiko Urakami
専務理事

藤本 厚子

Senior Executive Director

Atsuko Fujimoto
創立

1968年11月

Founded

November, 1968
目的

会員相互の友好と協力活動を通じて、アジア・大洋州諸国間の理解と親善を深める。

Aim

To promote international understanding and friendship among member countries in the Asia-Pacific region through cultural and fund-raising activities
メンバー国

アジア・大洋州諸国(アルファベット順)
オーストラリア、バンクラデシュ、ブルネイ、カンボジア、中国、フィジー、インド、インドネシア、日本、韓国、ラオス、マレーシア、マーシャル諸島、ミクロネシア、モンゴル、ミャンマー、ネパール、ニュージーランド、パキスタン、パプア・ニューギニア、フィリピン、サモア、シンガポール、スリランカ、タイ、ベトナム

Member Countries

Countries within the Asia-Pacific Region (In alphabetical order)
Australia, Bangladesh, Brunei, Cambodia, China, Fiji, India, Indonesia, Japan, Korea, Laos, Malaysia, Marshall Islands, Micronesia, Mongolia, Myanmar, Nepal, New Zealand, Pakistan, Papua New Guinea,Philippines, Samoa, Singapore, Sri Lanka, Thailand, Viet Nam
会員

日本側会員:約280人  
外国側会員:約100人

Membership

approx. 280 Japanese and 100 non-Japanese
入会資格

アジア・大洋州諸国に対する関心が深く、本会の目的に賛同し協力的な方
理事1名を含む会員2名の推薦
理事会の承認を必要とする

Membership Requirements

To have interest in the Asia-Pacific region and are willing to cooperate and participate in the Society's activities
2 recommendations including one Board Member
Board Meeting's approval
財務諸表

Financial Satements
1. 募金活動
「アジアの祭典・チャリティーバザー」、「チャイリティーゴルフトーナメント」などの事業からの収益及び、企業・個人からのご寄付など。
---
Fund-raising:
Through our "Asia-Pacific Festival and Charity Bazaar", "Charity Golf Tournament" and donations from individuals as well as corporative supporters.
2. 支援活動
参加国の恵まれない女性や子供たちのための生活環境の改善
教育支援
環境整備の拡充
自然災害被災者への緊急援助
---
Charitable:
We try to help the people in the region by:
Providing means of self-support for under-privileged women and children
Enhancing better environmental conditions
Providing financial assistance for highly motivated students
Providing Emergency Relief Donations for people hit by major natural disasters
3. 文化交流活動
日本の伝統文化を紹介する新年会
メンバー国の協力を得て年二回行われる文化交流会など
---
Cultural:
Japanese members introduce their traditional cultures at the New Year's Party.
Other member countries introduce their cultures and traditions at cultural exchange events twice a year.
4. 親睦
会員有志により運営されるS.I.G. (Small Interest Groups) の活動を通じて、会員相互の親睦を深める。
定期的にメンバー国を訪れる親善旅行では配分金の寄付先を訪れ、その使途を確認
---
Friendship and Goodwill:
Small Interest Groups organized by members provide the opportunity for deepening friendships through common interests and hobbies.
We organize tours to member countries visiting institutions where our funds have been donated and to meeting women leaders of various fields and institutions.